"How much does it cost to build an in-ground pool?"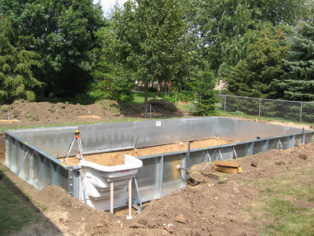 The decision to put in a swimming pool is a big one, and there are many thing to consider before the digging even begins. Vinyl pools are usually your least-expensive in-ground pool option and are constructed from pre-fabricated steel or fiberglass panels which allow for dozens of shapes. They feature durable vinyl liners available in a beautiful array of designer colors and patterns, and can be customized with built-in features and numerous extras. Vinyl pools can be constructed in about 2-3 weeks.

A common question is "how much will it cost?" The answer varies and is based on your size, shape, depth, location, features and extras. In general, you can expect to pay anywhere from $25,000 to $50,000 for your swimming pool before adding features and extras.

SIZE, SHAPE & DEPTH
The biggest factor in determining the price, is the size and shape of your swimming pool. Rectangle or oval shaped pools will be less expensive than a free-form or custom shaped pool. Of course, the bigger the size of your pool, the more materials required which leads to a higher price tag. The deeper the pool, the more labor and materials which also raises the price of the pool.

LOCATION
The location within your yard will determine the cost for excavation of the pool and utility hook-ups to the pool equipment.

FEATURES & EXTRAS
The options are many and your pool can be as simple or as elaborate as you choose. You can add sports extras such as a basketball hoop, volleyball net, water slide or diving board. Available features include a waterfall, fountain, or hot tub. Energy efficiency options include auto covers, saltwater chlorinators and energy efficient pumps. Remember to consider safety features offered by an auto cover or winter safety cover.

ENJOYMENT FOR A LIFETIME
We design your pool to be operator friendly, because we believe that your pool should be more about enjoyment and relaxation than work. We teach you how to maintain your pool, and we are always willing to answer any question you may have.

---