Maintaining a Balanced Pool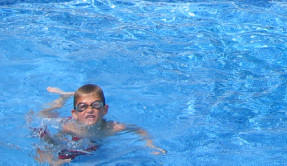 SAFETY, COMFORT and CORROSION
One of the most important steps of maintaining your swimming pool is keeping your pool water balanced. A properly balanced pool will provide a safe and comfortable environment for your swimmers. Whether you are using a chlorine based sanitizer or a salt generator system to chlorinate your pool, your pH needs to be correct. If your pH is either too high or too low it will be uncomfortable on skin and eyes, and if your pool water is not balanced, your chlorine sanitizer will not be killing germs and bacteria as it should. An imbalanced pool can also cause corrosion to the pool equipment such as the pump and heater, as well as shorten the life of your pool finish or liner.

---
TESTING the WATER: IDEAL RANGES in ppm (parts per million)

Total Alkalinity 80-120
Calcium Hardness 200-400
pH 7.2-7.6
Free Chlorine 1.0-4.0
Combined Chlorine 0-0.2
Cyanuric Acid 30-100
Total Dissolved Solids <2000


Test pool water daily and document for commercial and municipal pools according to health code.

Test pool water 2-3 times a week for home pools.

Factors affecting water balance include: bather load, wind, rain,
sun, temperature, and source water.

Schedule too busy? Hire Clearview Pools to provide daily or weekly service to maintain your pool.
TOTAL ALKALINITY refers to a pool waters ability to resist a change in pH, that is, it acts as a buffer. High total alkalinity causes scaling, cloudy water, reduces circulation and causes pH to drift >8.0 Low total alkalinity causes corrosion, pitting of concrete/plaster and metal fixtures, staining and pH bounce.

CALCIUM HARDNESS is the sum total of all the calcium dissolved in the water. High calcium hardness causes scaling, cloudy water, reduced circulation and heater inefficiency. Low calcium hardness causes pitting of concrete/plaster and metal fixtures and dissolves grout.

pH is measured on a scale from 0-14 with a pH of 7 being neutral. The recommended pH range for pool water is slightly alkaline. This assists bather comfort, as the pH of the human eye is about 7.5. High pH causes scaling, cloudy water, chlorine inefficiency, skin and eye irritation. Low pH causes corrosion, pitting of concrete/plaster and metal fixtures, chlorine loss, liner wrinkles, skin and eye irritation.

FREE CHLORINE is the portion of chlorine available to do the actual disinfection in the water. This level is critical in the pool. If there is no free chlorine present, there is no sanitizing taking place.

COMBINED CHLORINE (chloramines) can not be measured directly with a test kit. Combined chlorine is determined by subtracting the free chlorine test results from the total chlorine reading. This form of chlorine is very stable, but has little or no sanitizing ability. Combined chlorine results in unpleasant chlorine odor, often referred to as a pool with "too much chlorine". It is the cause of severe eye, skin and mucous membrane irritation.

CYANURIC ACID is the chemical which makes up stabilizer. It is an odorless, white granular substance also known as isocyanuric acid or conditioner. Chlorine stabilizer benefits your pool water by stabilizing the free chlorine residual and reducing chlorine loss due to sunlight.
Cyanuric acid has a pH of 4.5, is slow dissolving, is not destroyed by and pool chemical, and is removed only by draining, splash-out and backwashing. Stabilized chlorines contain cyanuric acid and are therefore referred to as self-stabilizing. Granular chlorine labeled dichlor and chlorine tablets labeled trichlor are stabilized chlorines.

TOTAL DISSOLVED SOLIDS (TDS) are the dissolved minerals that remain behind as the pool water evaporates. The TDS level naturally increases over time as more water evaporates and more chemicals are added. High total dissolved solids make it harder for chemical additives to work, cause stains to form, and may affect water clarity and taste.

---
SALT WATER CHLORINE GENERATORS

SALT LEVEL: Adjust the salt level to the manufacturer's recommended range, usually between 2,800-3,200 ppm.
Check salt levels with strips or a meter.
CYANURIC ACID: Set the cyanuric acid level to between 60-80.
Run pool pump a minimum of 8 hours a day.
FREE CHLORINE: Adjust output of salt generator to keep free chlorine level between 3-5 ppm.
TOTAL ALKALINITY: Keep total alkalinity between 60-90 ppm. This helps in buffering the pH.
pH: Adjust pH to 7.5-7.6 and monitor closely. When it climbs to 7.8 add acid to lower back to recommended range to avoid scaling.
CALCIUM HARDNESS: Needs to be 200-400 for plaster pools, but can maintain calcium hardness at 50-400 ppm for vinyl pools.